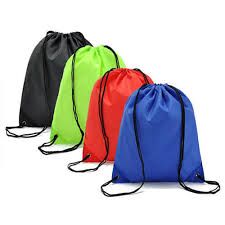 Drawstring bags have a long history and can be customized in color, size, material, and printing, and can be purchased at various retail stores, and supermarkets. Most of the purchasers of string-through bags are young people, especially around the school sales are high. Drawstring bags are like backpacks, but simpler than backpacks, just tug the rope to close the main pocket, suitable for placing lightweight items or various balls.
The simple structure of the drawstring bag and the fact that the bag usually does not have the compartments found in backpacks, and the bag is not very large, make it considered impractical by many people. However, a drawstring bag is handy when it comes to carrying everyday items.
1. What is a drawstring bag made of?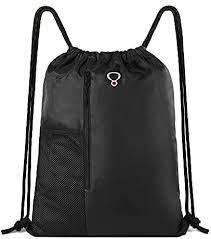 There is a wide range of material options for drawstring bags, the more common ones are as follows.
Cotton: easy to clean, a popular material for drawstring bags that can stand up to daily wear and tear
Canvas: cheap, suitable for printing patterns
Mesh: breathable, lightweight, rich colors
Nylon: dirt-resistant, easy to care for, sturdy, smooth surface
Polyester: wrinkle-resistant, stain-resistant, fade-resistant
2. How is it different from the traditional backpack?
In terms of convenience, a drawstring bag is easy to open and easy to access items; regular backpacks have many zippers, which can complicate their use.
For compartments, drawstring bags have a main pocket, and some drawstring bags will also have a small pocket for small items such as cell phones or keys.
In terms of size, the size is smaller and easier to carry than a traditional backpack.
As for security, the string of the drawstring bag ties the top of the bag so tightly that things are less likely to fall out and thieves are less likely to peel the string away and steal something. On the contrary, the traditional backpack zipper is instead more likely to attract thieves.
3. Usage of the drawstring bags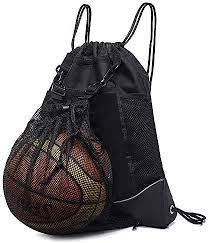 Drawstring bags have a variety of uses and are mainly used to carry small items:
Sportswear. Exercisers are fond of using drawstring bags to carry items such as workout clothes and towels. This is because the bags are just the right size and lightweight. Carrying items is not difficult to find even if they are packed in a compartment.
Small travel items. Small drawstring bags are often used to store travel toiletries. This will prevent your suitcase from becoming cluttered and will also allow you to quickly find the toiletries you need in your suitcase.
Toy Storage. Are you overwhelmed by a house full of toys? Don't know where to start? Large string bags can easily store messy toys like puzzle blocks. Don't want your room to be cluttered again? Then try string bag storage.
Carry your books. If you go to the library often or are attending college, pens and books couldn't be better in a drawstring bag.
Carry Balls. There are now drawstring bags that can carry basketball soccer balls, which can hold your jerseys and make it easy to carry the ball. Or larger drawstring bags, you can put the ball directly in the bag, there are additional small compartments for your jerseys and water cups.
4. Pros and cons
4.1 Pros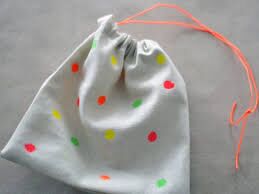 Eco-Friendly
Drawstring bags themselves can be reused many times. If the raw material is made of biodegradable cotton, for example, the eco-friendliness will be raised another notch.
Affordable
With low prices and designs, and the ability to print graphics, logos, and promotional slogans, drawstring bags are a great promotional tool for any business.
Durable
The cord that threads through the bag closure is usually slightly thicker, which makes the bag more durable, and the material can be made of waterproof materials like nylon and canvas, which can protect your phone from getting wet in the bag from the rain.
Best promotional item
Drawstring bags are as good as cotton, jute, and canvas bags for commercial promotional use. Print the corporate logo on the outside of the bag and give it to your customers as a gift, which is environmentally friendly and practical.
4.2 Cons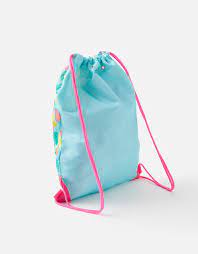 The sealed rope may break after repeated use many times. Once the string is exercised, the entire bag will also be unusable. So be sure to focus on the quality of the rope when you buy a stringing bag.
Another point is mentioned above, the problem of fewer compartments. Some people do not like this design because they need more than enough compartments to ensure that the items are in order. Drawstring bags usually have only one compartment, so they may not meet the needs of some people.
5. Conclusion
The business value of drawstring bags speaks for itself, i.e., they can promote your corporate brand, they are also environmentally friendly and easy to carry. Drawstring bags will continue to have a place in the market. Our company offers a wide range of materials, sizes, and printing of drawstring bags, if you have a need, please feel free to inquire.