I. Introduction
Discovering the perfect bag can be a challenge, which is why we've compiled a comprehensive comparison of three similar bag types: sling bags, messenger bags, and shoulder bags. Our breakdown of the advantages and disadvantages, popular brands, styles, and best uses of each type of bag will provide you with the information you need to make an informed decision. With our side-by-side comparison, you can easily see the similarities and differences between each bag type and choose the one that suits your individual needs and preferences.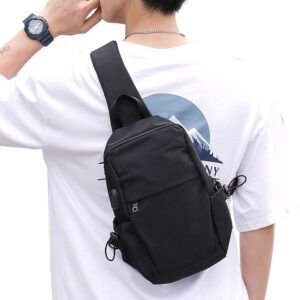 II. Sling Bags
Definition
Sling bags feature a single diagonal strap that can be adjusted to your preference, and worn comfortably on either the left or right side. Designed to be lightweight and compact, sling bags are great for carrying your essentials like wallets, phones, and small notebooks. Whether you prefer leather, nylon, or canvas, sling bags come in a variety of materials, styles, colors, and sizes, making it easy to find the perfect one for you.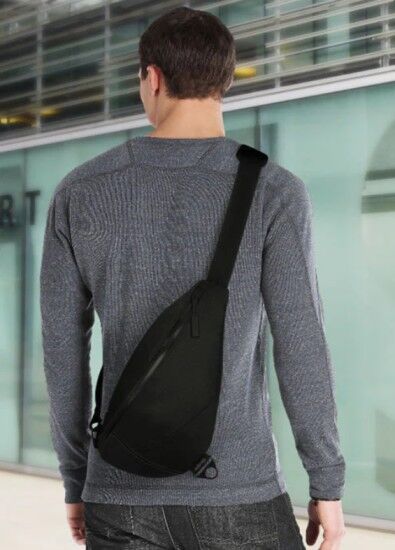 Advantages and disadvantages
Advantages: Discover the versatility of sling bags – perfect for everyday use, outdoor activities, and travel. These lightweight and compact bags offer maximum convenience as they are hands-free and designed for both left and right-sided wear. With a variety of styles, colors, and sizes to choose from, you can easily find a sling bag that suits your taste and needs. Best of all, sling bags are an affordable option that won't break the bank.
Disadvantages: Firstly, they often offer limited storage space compared to other types of bags. Secondly, the single strap design can become uncomfortable when heavily loaded. Additionally, depending on the bag's design, they may not provide enough security and can be easier to steal. Lastly, some sling bags may not be ideal for formal occasions or professional settings due to their material and construction.
Best uses
Everyday carry: Sling bags are great for carrying around everyday items such as wallets, phones, and small notebooks. They provide easy access to your belongings and are comfortable to wear for long periods of time.
Travel: Sling bags are also great for travel as they are lightweight and compact. They can be used to carry travel essentials such as passports, tickets, and cameras. Sling bags are also great for use as carry-on bags or as personal items on flights.
Outdoor activities: Sling bags are perfect for outdoor activities such as hiking, biking, or running. They provide a hands-free option for carrying water bottles, snacks, and other essentials.
Commuting: Sling bags are a great option for commuting as they are easy to carry around and can hold essentials such as a laptop, phone, and wallet.
Fashion: Sling bags come in a variety of styles and colors, making them a great fashion accessory. They can be worn with a variety of outfits and can add a trendy touch to any look.
Popular brands and styles of sling bags
Patagonia Atom Sling: This is a popular sling bag for outdoor enthusiasts. It is made from durable, water-resistant material and has multiple compartments for organizing gear.
KAVU Rope Sling Bag: This sling bag has a unique design and is often used as a casual everyday bag. It comes in a variety of fun patterns and colors.
Nike Heritage Sling Bag: This is a sporty sling bag that is great for the gym or other athletic activities. It has a sleek design and is made from durable material.
III. Messenger Bags
Definition
Messenger bags are rectangular and larger than sling bags, with a flap covering the main compartment and multiple pockets for organization. They're typically made of durable materials like canvas or nylon, and designed to be worn over one shoulder with a strap that goes across the body. Ideal for students, commuters, and professionals, messenger bags can hold everything you need for the day, from books and laptops to gym clothes and everyday essentials. Plus, they're versatile enough to fit a variety of needs, making them a go-to choice for many people.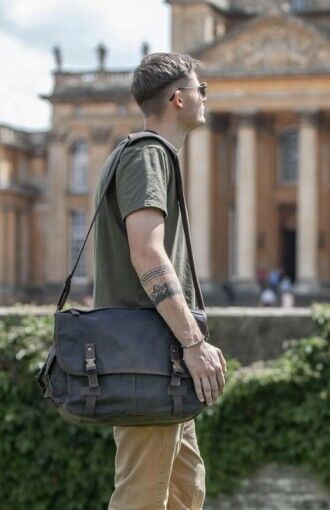 Advantages and disadvantages
Advantages:
Capacity: Need to carry a lot of items? A messenger bag is a perfect choice for you as it offers ample space compared to sling bags.
Organization: Don't waste time searching for your belongings. With multiple compartments and pockets, a messenger bag helps you stay organized and easily accessible.
Comfort: Tired of the weight of your bag on one shoulder? The crossbody strap evenly distributes the weight across your body, providing you with the comfort you need.
Style: Whether it's for work or casual use, a messenger bag's classic and professional look can work well for any situation.
Disadvantages:
Size: The larger size of messenger bags can make them heavy and cumbersome to carry for some people.
Accessibility: The flap on the bag can make it difficult to quickly access items inside, especially if the bag is fully packed.
Bulky: The rectangular shape of messenger bags can make them bulky and difficult to store when not in use.
Style: While the classic look of messenger bags can work well in many situations, it may not be the right style for everyone or every occasion.
Best uses
Commuting: Messenger bags are a popular choice for people who need to carry a laptop, books, or other items to work or school.
Travel: The larger size of messenger bags makes them a good choice for carrying items such as a camera, travel guide, or other essentials while exploring a new city.
Cycling: The original purpose of messenger bags was for bike messengers, and they are still a popular choice for cyclists who need to carry items while riding.
Everyday use: Messenger bags can be a great choice for people who want stylish and practical bags for everyday use.
Business: The professional look of messenger bags makes them a good choice for business meetings or presentations.
Popular brands and styles of messenger bags
Timbuk2 Messenger Bags: Timbuk2 is a popular brand that offers a wide range of messenger bags in various styles, including classic messenger bags, laptop messenger bags, and travel messenger bags.
Chrome Industries Messenger Bags: Chrome Industries is known for its durable and stylish messenger bags, which are popular among bike commuters and urban travelers. They offer various styles and sizes to fit different needs.
Herschel Supply Co. Messenger Bags: Herschel Supply Co. is a popular brand that offers messenger bags in a variety of colors and patterns. Their bags feature a classic design with modern updates and are suitable for both casual and professional settings.
IV. Shoulder Bags
Definition
These bags come in a range of materials and designs, from casual canvas to luxurious leather, and are ideal for carrying everything from groceries and books to laptops and other essentials. With an open top and a single or double strap, shoulder bags are both practical and fashionable, making them the perfect addition to any wardrobe. Some bags even come with additional pockets and compartments, making it easy to stay organized on the go.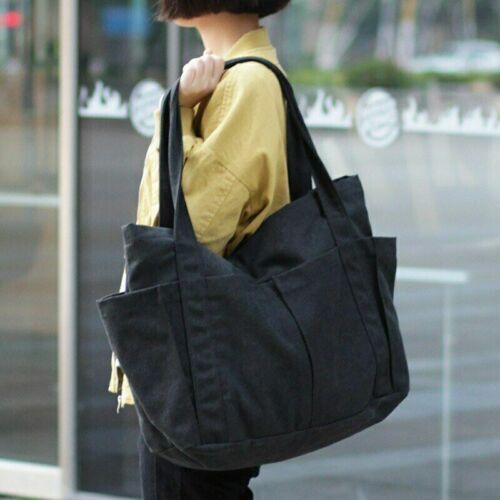 Advantages and disadvantages
Advantages:
Shoulder bags offer a variety of advantages that make them highly practical and versatile. Firstly, they are spacious, providing ample room for storing a wide range of items. Additionally, they are incredibly convenient, as they can be easily carried over the shoulder, leaving your hands free for other tasks. Their versatility is further enhanced by the range of styles and materials available, making them suitable for both casual and formal occasions. In terms of durability, many shoulder bags are crafted from high-quality materials like leather or canvas, which can withstand wear and tear with ease. Finally, the open-top design of these bags makes it incredibly easy to access your belongings at any time, without having to fumble with zippers or closures.
Disadvantages:
Shoulder bags are versatile, but they do have some drawbacks. Their larger size can make them heavy and hard to carry. They may lack compartments or pockets, which can lead to disorganization. For security reasons, they may not have zippers or closures, making it easier for someone to steal items. Additionally, some shoulder bags may have thin or uncomfortable straps, making them ill-suited for prolonged use. Lastly, they may not be appropriate for formal events or more professional settings.
Best uses
Everyday use: A shoulder bag is ideal for carrying everyday essentials such as a wallet, phone, keys, and makeup. It can also be used for carrying groceries or other small items.
Work: Shoulder bags can be used as work bags to carry a laptop, documents, and other essentials.
Travel: A shoulder bag can be used as a carry-on bag for air travel, to carry a passport, travel documents, and other essentials.
Outdoor activities: Shoulder bags are suitable for outdoor activities like hiking, camping, or picnics, to carry water bottles, snacks, and other essentials.
Shopping: Shoulder bags can be used for shopping trips, to carry items like wallets, phones, and small purchases.
Casual outings: A shoulder bag is a great accessory for casual outings such as lunch with friends, a trip to the beach, or a day at the park.
Popular brands and styles of shoulder bags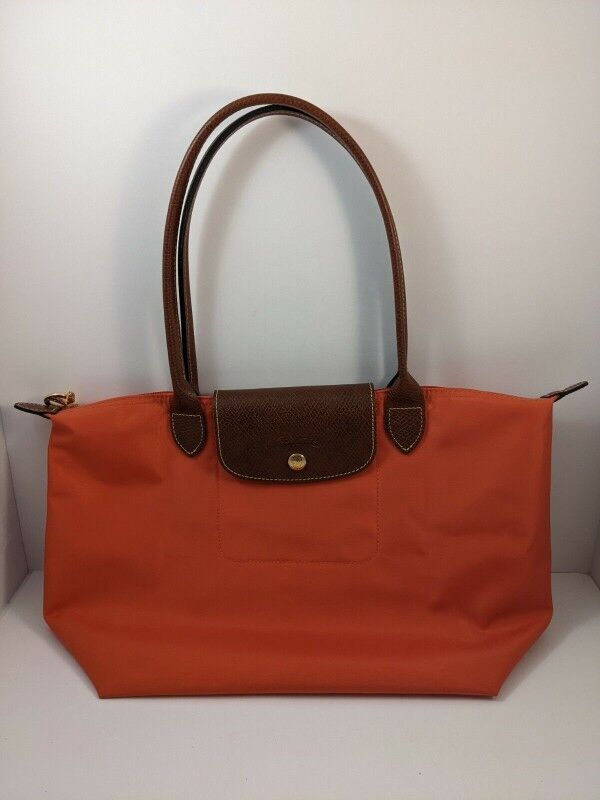 Longchamp Le Pliage Tote Bag – A lightweight and durable shoulder bag made from nylon with a spacious interior and foldable design.
Michael Kors Jet Set Shoulder Bag – A stylish and functional shoulder bag made from leather with a simple and elegant design.
V. Side-by-Side Comparison
Comparison of each type of bag
Size and capacity
Sling bags may seem small, but they pack a punch when it comes to convenience. Wearable across the body with a single strap, they're perfect for carrying essentials like your wallet, phone, and keys. And if you need more space, some sling bags come with multiple compartments for extra storage. Don't underestimate the practicality of a trusty sling bag.
Messenger bags are larger than sling bags and come with a spacious rectangular shape that can accommodate all your belongings, including laptops, textbooks, and more. Thanks to their long strap, you can wear them across your body or over your shoulder, ensuring comfort and ease of use.
Shoulder bags are available in various sizes to meet your needs, from small to large. With two comfortable straps, they're specifically crafted for ease of wear over the shoulder. Ideal for carrying small essentials or larger items, such as books or an extra set of clothes.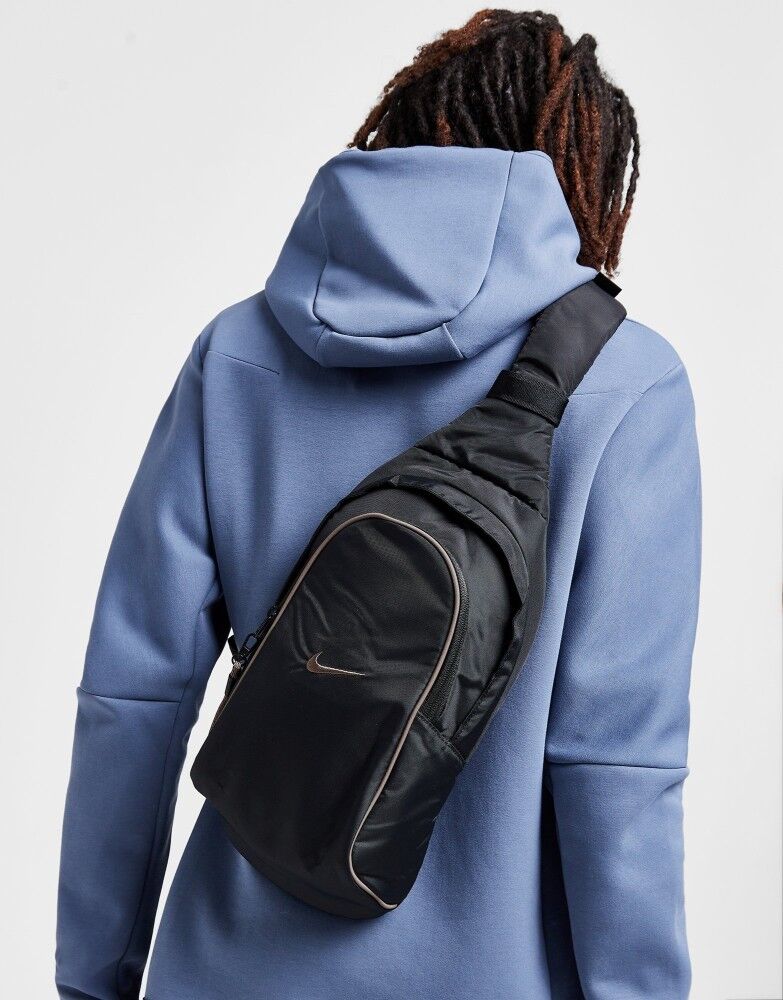 Style and design
With an asymmetrical design, sling bags are the perfect balance of style and function. Featuring a single strap worn across the body, you can choose from a variety of sizes and styles to fit your every need. While they're often considered a casual option, sling bags can also be elevated for formal affairs.
The versatile design of messenger bags features a classic flap-over closure and a comfortable long strap that can be worn across the body. Whether you're commuting to work or heading to class, these bags come in a variety of sizes and materials to fit your needs and style. Choose a practical and stylish option with messenger bags.
Characterized by two short straps worn over the shoulder, shoulder bags come in a variety of sizes and materials, making them perfect for both casual and formal occasions. Not only are they versatile, but they also offer a timeless look that can be dressed up or down according to your preference.
Comfort and convenience
Sling bags are expertly designed to be worn diagonally across the body, reducing the strain on a single shoulder and evenly distributing its weight. Their lightweight build makes them easy to carry around for extended periods but beware of overloading them, as heavyweights may cause the strap to dig uncomfortably into your shoulder.
Messenger bags are worn either across the body or over one shoulder, offering plenty of storage space for all your essentials. While they can sometimes cause strain on one side due to uneven weight distribution, many messenger bags now offer padded straps and back panels to support heavier loads. So whether you're commuting to work or exploring the city, a messenger bag is a practical and stylish choice.
Shoulder bags can lead to strain on one shoulder when carrying heavy items. Although they have a larger capacity than sling bags, they may not be as roomy as messenger bags. Some models offer adjustable straps and padded shoulder rests for added convenience, but they may not distribute weight as evenly as sling bags.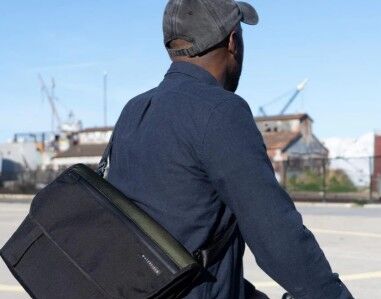 Durability and material
Sling bags are the ultimate blend of durability and versatility. They are typically crafted from lightweight but sturdy materials like nylon or polyester, which makes them perfect for withstanding the rigors of daily wear and tear. Additionally, sling bags are available in a myriad of materials, from canvas to leather to waterproof options, which means that they can adapt to any activity or occasion. Invest in a sling bag, and you'll always have a reliable companion by your side.
Whether you opt for leather, canvas or nylon, messenger bags are built to last. Their sturdy material makes them perfect for carrying heavier items without worry. Plus, you can choose the perfect style to match your unique taste.
Shoulder bags are renowned for their durability and strength, thanks to the high-quality materials they're crafted from, such as leather or canvas. With a choice of materials including leather, canvas, and nylon, these bags offer durability alongside a range of stylish options.
Price
Sling bags make for an excellent option that won't break the bank, with prices ranging from $20 to $100 depending on the materials and brand. And while designer options can be priced in the hundreds, the affordability of the overall market makes this style an accessible choice for many.
Although messenger bags may be more expensive than sling bags, with prices ranging from $50 to $300, the added benefits of durability make them worth the investment.
Shoulder bags can vary greatly in price, depending on the brand and materials used. They can range from $30 to over $1,000 for high-end designer bags.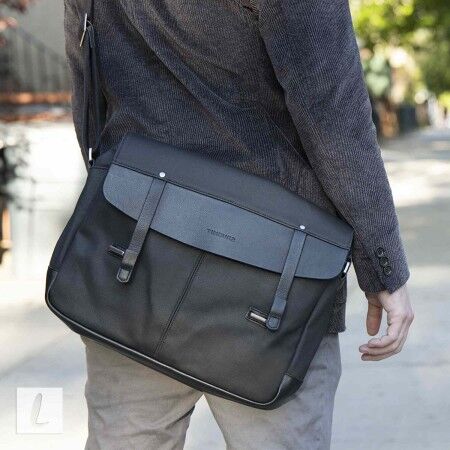 VI. Conclusion
Sling, messenger, and shoulder bags all have their own unique strengths and weaknesses, making them ideal for different occasions. Lightweight and compact, sling bags are great for outdoor activities and casual outings. Messenger bags have a professional look and are ideal for carrying documents and laptops. Versatile shoulder bags are suitable for everyday use or travel. Remember to consider factors such as size, style, comfort, durability, and price range when selecting a bag. With these elements in mind, you'll easily find the right bag to meet your needs and enjoy its benefits for years to come.
Discover a variety of stylish and durable bags with Airscape Textile! Choose from our selection of sling, messenger, and shoulder bags to meet your needs. Not sure which one to import? Reach out to us today by filling out the form on the right, and our team of experts will provide you with professional advice to make the best decision for you.