I. Introduction
In recent years, rolltop backpacks have become increasingly sought-after for their attractive and versatile designs. These packs offer a contemporary twist on traditional models by utilizing a secure clip or buckle system rather than zippers to close the top of the bag. With water resistance capabilities and an increased carrying capacity, these stylish bags are perfect companions for commuters, students, outdoor adventurers – anyone looking to bring along all their essential items in one chic package.
II. The Good
Versatility and flexibility: Rolltop backpacks are the perfect companion for any adventure, big or small. Whether you're rushing to work or hitting the trails on a camping trip, these bags easily adjust in size so that you can bring all of your must-haves with ease.
Capacity to hold large items: With the spacious rolltop design, backpacks can now hold more than ever before – ideal for accommodating all your necessities such as laptops and textbooks, or extra items like camping supplies. The possibilities are endless.
Water-resistant: Rolltop backpacks provide the ultimate protection for your essentials in rainy conditions – providing a reliable haven from wet weather, making them perfect to take on all of your adventures.
Stylish design: Rolltop backpacks are the ideal accessory to keep your look on trend! From classic hues to daring prints, these stylish bags come in countless styles and a rainbow of colors so you can stay fashionable while having all your daily essentials right at hand.
Comfortable to wear: Rolltop design distributes the load evenly across your shoulders and back, offering comfort for those times when you have to haul a lot of stuff. Plus, many rolltops feature special padding on straps and panels for that extra bit of cushioning.
III. The Bad
Difficult to access items at the bottom: If you're thinking of buying a rolltop backpack, be aware that they tend to have much less interior organization than traditional backpacks. That means it can take extra effort and time to find small items like your phone or keys within the single large main compartment. Additionally, these backpacks may lack structure and support compared with other types of bags, causing heavy objects inside them to shift around easily – another organizational challenge.
May not be suitable for all activities: While they are versatile and well-suited for outdoor activities and travel, they may not be the best choice for activities that require a lot of quick access to items. For example, if you are using a backpack for work or school, a rolltop backpack may not be as convenient as a traditional backpack with multiple pockets and compartments. Similarly, if you are using the backpack for running or cycling, a rolltop design may not be the best choice as it may bounce around on your back.
IV. The Ugly
Can be bulky and heavy: Because of their expandable design, rolltop backpacks can hold a lot of gear, which can make them larger and heavier than traditional backpacks. This can make them less convenient to carry around, especially if you are using them for everyday activities such as commuting or running errands. Additionally, the rolltop design itself can add extra weight to the backpack. The materials used to create the rolltop closure can be heavier than the materials used for a traditional backpack closure, such as zippers or buckles.
More expensive than traditional backpacks: The complex design and specialized materials used for rolltops often drive costs up, so you may have to pay more if you're looking for one of these trendy packs. But don't get discouraged – it is possible to find the perfect combination of style and affordability.
May not fit all body types: Because of their design, rolltops can sometimes be difficult to adjust and provide inadequate support on certain body frames. This means those with petite or muscular builds might find themselves unable to benefit from its many advantages due lack of comfort when wearing it over extended periods.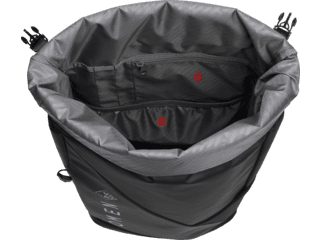 V. Comparison to traditional backpacks
Differences between rolltop and traditional backpacks
Design: Rolltop backpacks are the perfect choice for those looking to fit varying amounts of gear. With their unique roll-down design, these packs provide unparalleled versatility compared to traditional fixed-size and shape options – making them ideal for a range of activities.
Closure: Rolltop backpacks provide a unique closure system that offers great protection against the elements – simply roll down to seal and adjust on the go! Secure your gear with an altered alternative to traditional zippers, buckles, or other clasps.
Capacity: Rolltop backpacks offer more room to pack the essentials than traditional ones. Their expandable design makes them stand out when it comes to packing larger items like camping equipment and sports gear.
Weight: Rolltop backpacks offer a unique style that comes with an added cost – extra weight. With their thicker materials and the additional components of a roll-down closure system, these bags can be considerably heavier than traditional bag designs.
Comfort: Regular packs often have more customizable straps, while some rolltops come with adjustable frames that can be tailored to your preference.
Considerations when choosing between the two
When deciding on a backpack, consider the activities you plan to use it for. For an outdoor adventure or sports activity, rolltop backpacks are ideal due to their larger capacity and greater convenience. If your needs are more everyday-based like commuting or school assignments then traditional style packs should do fine.
Budget and style should be also taken into account. Rolltop backpacks may provide additional features and long-term durability; however, they can also come with a higher price tag than traditional backpacks. For more of an individualistic look that stands out in the crowd, rolltop styles are great options – if classic sophistication is preferred though there's nothing like the timeless appeal of conventional designs.
VI. Conclusion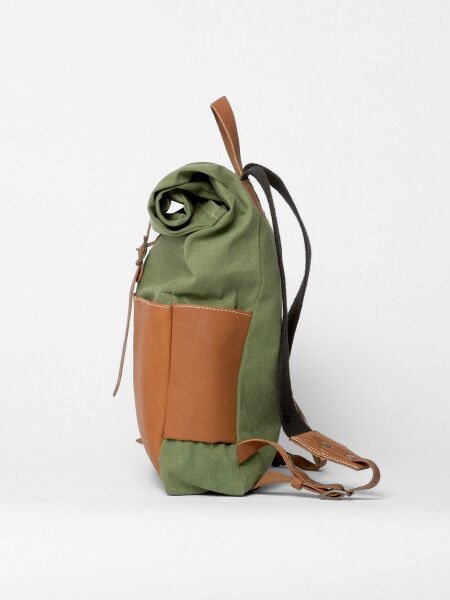 Rolltop backpacks are steadily on the rise, with good reason. They boast a range of features that make them an ideal choice for many situations – they're versatile, spacious and look smart. But it's worth bearing in mind there can be some drawbacks too; the organization is limited and carrying one over long periods may not always be as comfortable. It all depends on what you need from your bag: activity level, capacity requirements or plain-old comfort levels.
Discover the perfect roll-top backpack for your lifestyle with Airscape Textiles! From chic to sporty, we offer a wide range of styles that can fit any occasion. Contact us today by filling out the form on the right side and get started on finding your new go-to bag.